Time Needed to Treat (TNT)
TNT is a new method to help facilitate for guideline panels and other relevant stakeholders to consider clinicians´ time as a finite resource when issuing recommendations. Check out our TNT resources – maybe try TNT out and help us improve the concept – or listen to Professor Gordon Guyatt discuss why TNT is important in this video.
---
Digital Minimalism
Read our interview with Nina Singh and co-authors of a brilliant recent paper published in NEJM.
---
Free Webinar
Join Cochrane Sustainable Healthcare and Choosing Wisely Canada for a webinar on the challenges of tackling low-value care practices that do not add value to patient care.
---
Organizations and initiatives for a more sustainable healthcare
Check out this list of organizations and reform initiatives around the world.
---
The Recovery – a podcast from Cochrane and BMJ
Tune in to "The Recovery – Voices of action towards sustainable healthcare" – a podcast series produced by Cochrane Sustainable Healthcare and The BMJ.

In this podcast series, the many challenges facing the sustainability of healthcare are explored in conversations with extraordinary healthcare researchers, doctors, and activists from around the world, who are pushing for a shift towards a new paradigm within medicine – to improve our health, well-being, and climate.
Topics range from an evolutionary patient revolt, challenging professional norms in medical practice, and the widespread use of low-value care in low- and middle-income countries. The podcast is hosted by Dr. Ray Moynihan, an acclaimed journalist and health researcher based at Bond University in Australia and co-hosted with Dr. Fiona Godlee, a leading figure in medical publishing globally and previous BMJ Editor-In-Chief.
The series starts off with an introduction from the Director of the Global Center for Sustainable Healthcare, Dr. Minna Johansson, followed by six episodes. Listen in below or find The Recovery on most podcast channels.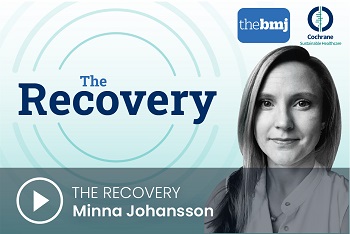 Explainer episode: What does sustainable healthcare mean? – Minna Johansson, Director of Cochrane Sustainable Healthcare and the Global Center for Sustainable Healthcare

Dr. Minna Johansson talks about why a new focus on sustainability of health and healthcare is urgently needed – for patients, health systems, societies, and the planet. Read the BMJ opinion piece about the podcast series on sustainable healthcare here.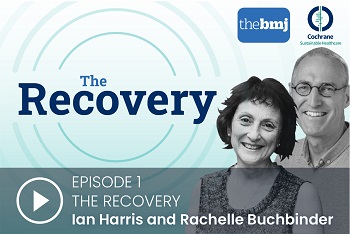 Episode 1: First, do no harm – The dangers of medical excess – Professor Rachelle Buchbinder, Monash University and Professor Ian Harris, New South Wales University

In this episode, we talk to rheumatologist Rachelle Buchbinder and orthopaedic surgeon Ian Harris. Rachelle is also a Coordinating Editor for Cochrane Musculoskeletal and Cochrane Back and Neck. Both Ian and Rachelle are vocal advocates for evidence-based medicine – and fearlessly challenge professional norms and are creating new structures to wind back ineffective and dangerous care in medicine and surgery. If you are on Twitter, you can follow Rachelle and Ian for updates on their work. They have also written an opinion piece in the BMJ to accompany this podcast, which can be found here.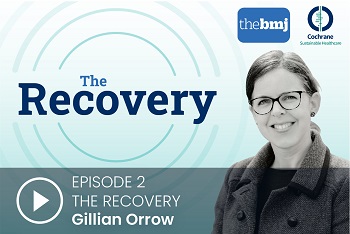 Episode 2: Community healthcare leads the way – Dr. Gillian Orrow, Growing Health Together

In this interview, we talk with Dr. Gillian Orrow, a true example of real and radical action towards sustainable healthcare. Enabling physical activity, creating garden spaces, and improving access to fresh food, Gillian takes us through how a 'community approach' is being implemented in her medical practice to empower patients, improve equity, and ultimately enhance the greater community's wellbeing and health in Surrey, England. You can find out more about the Growing Health Together programme hereEpisode 2: Dr. Gillian Orrow, Growing Health Together – Community healthcare leads the wayEpisode 2: Dr. Gillian Orrow, Growing Health Together – Community healthcare leads the way and follow them on Twitter @GH_Together. Read Gillian's accompanying opinion piece in the BMJ here.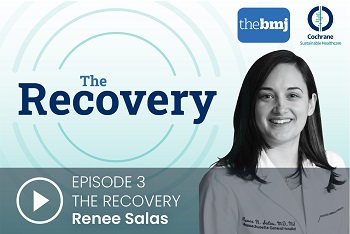 Episode 3: Climate change, its impact and what we can do about it – Dr. Renee Salas, Harvard Medical School & Harvard T.H. Chan School of Public Health

Hope and inspiration flows through this conversation with Dr. Renee Salas, a Harvard-based emergency doctor who has testified to the US Congress about the urgency of addressing climate change, and who is transforming what it means to be a medical doctor. Follow Renee on Twitter @ReneeNSalas_MD to keep up to date with her work and projects. Renee has also contributed with an opinion piece about the impact of climate change on healthcare to the BMJ.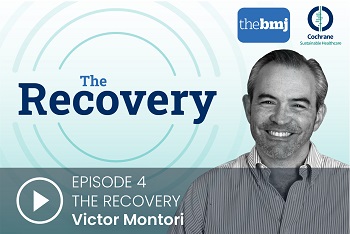 Episode 4: Why we need a patient revolution – Professor Victor Montori, Mayo Clinic
In this episode, we will hear from Victor Montori, the Peruvian-born Mayo Clinic-based doctor who is inciting a non-violent revolution of careful and kind care, of unhurried conversations with patients, built on compassion and solidarity. Follow @Vmontori on Twitter to keep up to date with his work on the patient revolution movement. You can also find his accompanying opinion piece on the need for a movement for common care.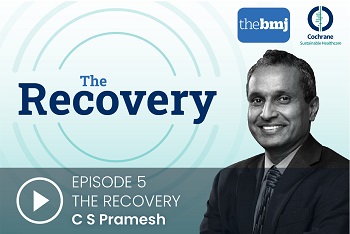 Episode 5: Addressing inequality in healthcare and raising the bar in cancer treatment – Professor CS Pramesh, Tata Memorial Hospital

From ensuring fairer healthcare in India to addressing medical overuse, high-profile cancer specialist, CS Pramesh is challenging norms within cancer healthcare and practice. Pramesh is also helping to lead Choosing Wisely's efforts to reduce wasteful care in low- and middle-income countries – with the aim to achieve more efficient, higher quality, and equitable care for all.To find out more about Pramesh and his work, you can follow him on Twitter @cspramesh.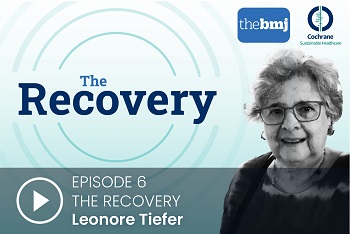 Episode 6: The risks of medicalizing sexuality – Dr. Leonore Tiefer

Our last interview in this podcast series is with Dr. Leonore Tiefer who has written widely about the medicalization of men's and women's sexuality. Her global campaigns have been successful in slowing the medicalization of common female sexual problems and is a model for community action against overdiagnosis and overtreatment. You can find more information about Leonore's work on the newviewcampaign.org website.